Muscle System Specialist Course – ONLINE COURSE
$4,000.00
You can pay in full and receive a $400 discount.
OR
You can pay in 5 installments of $800.00
Buy Now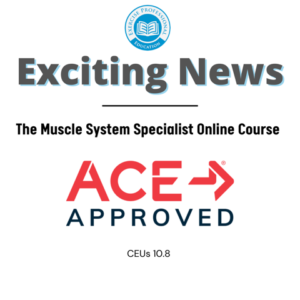 The on-line version of the MSS Course is videotaped from a MSS LIVE! course.
All 108 hours of the course have been captured and divided into the 24 sections of the workbook manuals. All paperwork relevant to the course is provided via PDF files for each section.
The on-line course will be done with a cohort group and a specified start and stop date with 20 weekly review and progress meetings facilitated by a qualified instructor.
This is a convenient and dynamic way to experience the material.
Once you have completed the coursework you will continue to have access to the online platform for an additional year.
This course is approved by the American Council on Exercise for 10.8 CEU's
Course Description
This is the foundational course for Exercise Professional Education.
It is 108 hours of live course delivery covering everything from how to meet an individual in your community and determine if they are a qualified candidate for your service, to all of the technical information for gathering the critical data to analyze and make a decision about where to begin working and planning that work, and then developing a lifelong client relationship managing that individual's exercise and muscle system health.
You will learn unique assessments to discover where your client has motor control issues. You will also learn unique interventional tactics to improve your client's motor output and control. Your exercise prescriptions will take on new meaning and more precision. You will become a better practitioner-scientist. You will be able to address pain and other sensations the client does not want via exercise. You will truly harness the power of exercise as medicine.
There simply is no other course like it on the market.
ACE Approved for 10.8 CEU's
Course Objectives & Goals
The graduates of the program will understand their standard of care/scope of practice and role responsibilities and how to communicate these effectively to consumers of Muscle Health and Exercise services and their community at large.
The graduates of the program will understand the dynamics of selling Muscle Health and Exercise services to individuals and conduct a professional initial consultation leading to a clear decision on whether Muscle Health and Exercise services are appropriate.
The graduates of the program will understand and apply appropriate legal disclosures and informed consents prior to providing Muscle Health and Exercise demonstrations or services.
The graduates of the program will provide and interpret an appropriate and comprehensive pre-Muscle Health and Exercise session screening questionnaire.
The graduates of the program will be able to generate communication via, phone, email, and letter to health care professionals associated with a client, writing narratives and obtaining medical clearance when necessary.
The graduates of the program will be able to effectively document their initial and subsequent assessment of a client.
The graduates of the program will learn to estimate the Allostatic Load of a client prior to performing an Assessment of Limb/Trunk Motion and subsequent Muscle Health and Exercise assessment techniques.
The graduates of the program will learn to analyze and collate assessment data to make critical decisions and determine a rational client plan.
The graduates of the program will be able to present their assessment findings and defend their rationale for the client plan objectives and goals.
The graduates of the program will be able to educate a client about Muscle Health and Exercise principles and procedures relevant to the individual needs of the client.
The graduates of the program will be able to document their daily sessions.
The graduates of the program will learn a wide array of methods and techniques to assess and improve a client's motor control.
Ultimately this course is about thinking. It will help you become a competent field practitioner-scientist. Each client is an N-1 Study. You will become an advanced observer and learner regarding an individual client's motor control and its relationship to their sensations (pain, tightness, soreness, etc.). You will learn a broad and deep philosophical construct that will inform the numerous methods and techniques you will learn to apply to improve a client's motor control system.
What You Will Learn
Sections 1 through 12
1-01 – Program Introduction, Orientation, and Philosophical Basis 
1-02 – Selling (Interviewing for) Muscle Health and Exercise Services
1-03 – First Contact Strategies – What You Should and Shouldn't Do and Say when speaking to a potential client
1-04 – Conducting the Initial Consultation – How to structure an effective and powerful interview so a clear decision is made at the end
Sections 13 through 14
2-01 – Sales (Interview) System Review and Documentation of Initial Consultation – Why the first interview is critical for a win-win relationship
2-02 – Physical Assessment Philosophy and Methodology – Why we do what we do and how we do it matters!
2-03 – Performing the Initial (Phase 1) Baseline Assessment and Collecting Relevant Client Data – Weak data leads to weak decision-making.
Sections 15-19
3-01 – Conducting an Analysis of Intake Data – Science-based analysis and decision making will help you solve problems more efficiently
3-02 – Writing the Client Plan Objectives and Goals – Clarity of the work process is key to client trust and retention
3-03 – Writing Communicative Narratives – Letting the medical providers in your community know who you are
3-04 – Conducting the Client Education and Report of Findings – Build credibility as an expert for creating high-value relationships
3-05 – Administering the First Session and Using the Daily Note – Getting off to a solid start makes everything go smoothly.
3-06 – Introduction to Intra and Inter-Session Decision Making – Learn how experts make decisions that lead to powerful outcomes
Sections 20 through 22
4-01 – Performing a Phase 2 Assessment – Adding more sampling data of the client motor control system keeps the process moving forward
4-02 – Conducting an Analysis of Phase 2 Data – Advanced decision making is the key to success
4-03 – Writing the Client Plan Objectives and Goals – Clarity keeps the client engaged
4-04 – Writing Communicative Narratives – Keep the medical providers in the loop and get more referrals
4-05 – Conducting the Client Education and Report of Findings – Client understanding of process keeps retention high
4-06 – Administering the First Session and Using the Daily Note – A good start improves the chances of a good finish
Sections 23 through 24
5-01 – Making It Work and Controlling Professional Behaviors Necessary for Success – Acquire the right success mindset and behaviors
5-02 – Comprehensive Program Review – Review of the fundamentals is what professionals do
5-03 – Post Assessment Procedures – More sampling processes to dig deeper into the motor control system
5-04 – Mobility/Stability Profile Analysis and Real-Time Decision Making
5-05 – Open Question-Answer Discourse and Exploration of Key Concepts
The practical portion of this course includes 3 hours of supervision with a qualified MSS Instructor. Your course fee includes this practical experience.
The practical portion is mandatory and must be scheduled as soon as possible following completion of the course. If you can not reasonably make arrangements to meet with an approved instructor then a series of Zoom meetings will be scheduled where you will need to find a subject to work with while the instructor observes and guides the practical experience, This is not ideal as the practical skills are technical and nuanced and really require in-person observation and coaching, but we will accommodate as much as possible.
Here is a list of the approved instructors and their locations (you will need to contact the one of your choosing to set the practical date and time):
Greg Mack – gtmack01@mac.com – Columbus Ohio
Charlie Rowe – chazrowe21@yahoo.com – Columbus, Ohio
Brandon Green – branjgreen@gmail.com – New Market Ontario Canada
Dominick Nusdeu – dominicknusdeu@gmail.com – Houston, Texas
Jason Weitzner – jay@symmetryexerciseclinic.com – Naples, Florida
Curtis Van Wyck – curtis.vw@curtisclaytraining.com – Bothell, Washington
Andrew Hoppert – andrew.hoppert@gmail.com – Glendale, Wisconsin
Brandon O'Connor – brandon@austinmusclerestoration.com – Austin, Texas
Tim Livingston – livfit16@gmail.com – Shelton, Connecticut
Hope Gaston – hopegaston@gmail.com – San Diego, California
Course Dates, Times, & Locations
This course is performed as a cohort with the next start date on March 15, 2022 at 3:00 pm EST.
Students meet weekly with a course facilitator to review the course content progressively over a consecutive 20 week period. (Unless otherwise indicated – See Calendar for Specific Dates and Times for the next course offerings).
The dates for the next cohorts will be (all start at 3:00 pm EST and last for 60 minutes)
June 15, 2022
June 22, 2022
June 29, 2022
July 6, 2022
July 13, 2022
July 20, 2022
July 27, 2022
August 3, 2022
August 10, 2022
August 17, 2022
August 24, 2022
August 31, 20222
September 7, 20222
September 14, 20222
September 21, 20222
September 28, 2022
October 5, 2022
October 12, 2022
October 19, 2022
October 26, 2022
Course Pre-Requisites & Other Important Info
Please click on this link to view the course pre-requisites and other important course information
MSS Course Pre-Requisites 5.8.21
If you would like to host a course at your facility please hit the button below!
---